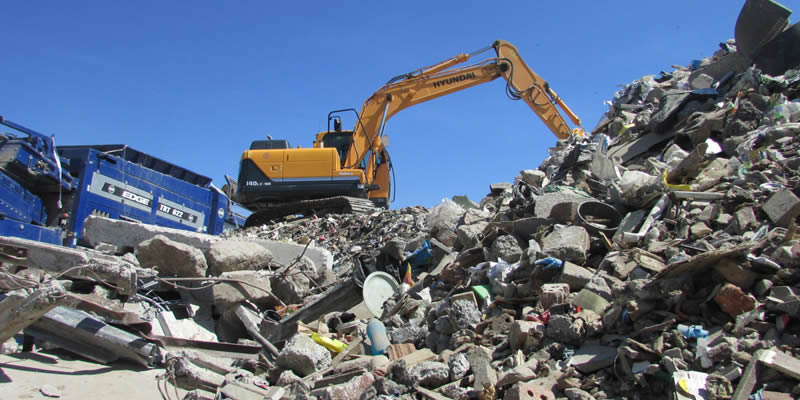 Demolition Waste Recycling
We consistently strive to provide sustainable and environmentally conscious service offerings. We are committed to the protection of the environment and are constantly looking at ways to reduce our carbon footprint.
On our demolition sites, we sort construction, demolition and excavation waste into metals, wood and concrete (for crushing to remove reinforcing steel) and reclaimed bricks. We aim to use more demolition waste as secondary aggregates and minimise waste from the production of building materials, surplus and wastage.
Reducing waste can save money, energy and resources and makes good business sense. We operate to Site Waste Management Plans and produce full waste recycling reports for every project.
Recycling Demolition Materials:
Plasterboard
Loaded into skips or roll on/off containers and then transported to a plasterboard recycling facility.
Timber
Loaded into skips or containers. This is then taken to a timber recycling facility for chipping or reprocessing for use as fuel or bedding.
Fluorescent Light fittings
Placed in a dedicated container and sent to a specialist processing and recycling facility.
Metals
These are sorted into non-ferrous and ferrous metals. Ferrous and non-ferrous metals are processed on site into various grades and then transported to specialist recycling providers, ensuring maximum returns.
Glass
Glass is removed as part of the demolition process and is not normally re-used. Previous risk assessments have determined that removing glass by demolition plant is safer than removal by hand. The glass is loaded, where practicable, into bins specifically for this type of waste.
General Waste
The residual waste sent to landfill is made up of all the items that do not fit into the above categories or cannot be salvaged once the reclaim avenue has been exhausted. It is not in anyone's environmental or financial interest to send bulk volumes to landfill.
Asbestos
All Asbestos containing materials removed are packaged and disposed of in compliance with the Asbestos Regulations and HSE requirements.
Brick & Concrete
Where possible these are excavated, crushed on site and used for fill
Lancashire & Cumbria Demolition Ltd have made a commitment to:
Recycle as much material as possible

Highest possible targets of recycled materials

Process waste, wood, concrete, metals, etc

Full reporting in all areas on every projects upon request
Contact Us Today